Welcome to Fightful.com's live coverage and discussion for
Lucha Underground!!!
Join us for live coverage, and comment on our boards below, or our forums by registering for FREE at fightful.com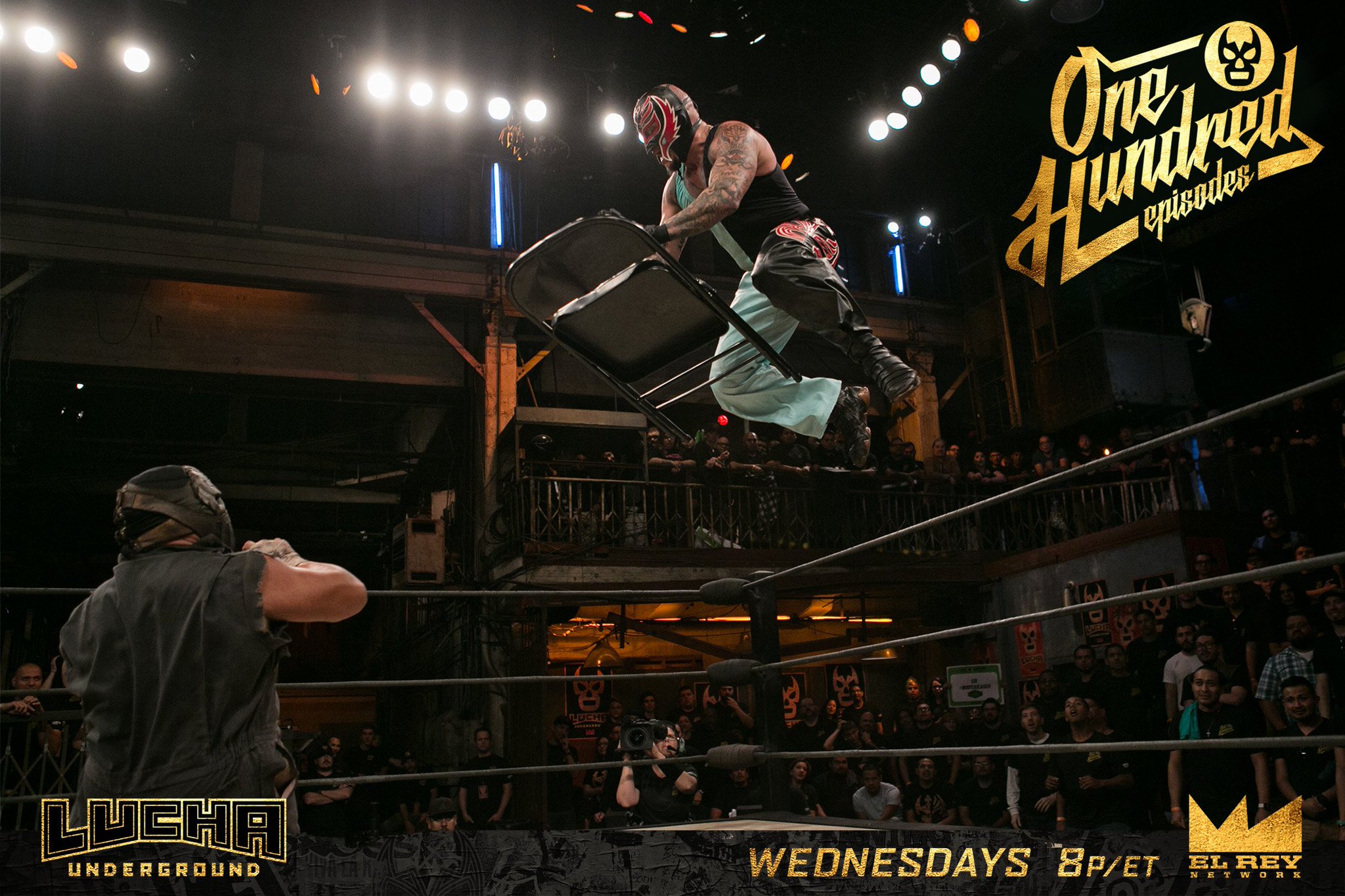 Tonight we celebrate Lucha Underground's 100th episode! Tonight we will see Rey Mysterio vs. Matanza as well as Pentagon Dark vs. El Dragon Azteca, Jr.! Should be a great night and it all starts at 8 EST on El Rey Network!
We start backstage with Worldwide Underground backstage in the locker room. Ricky Mandell has changed his last name legally to Ricky Mundo with the driver's license to prove it. Johnny says there is only room for one Mundo in Worldwide Underground. Ricky is happy because Mundo has said he is a part of Worldwide Underground now.
Now in the temple it is time for some matches. The Atomicos match is first up!
Atomicos Match: Sexy Star, Fenix, Cage and Prince Puma vs. Worldwide Underground (Mundo, Taya, Black and Marty Martinez)
Mandel proudly holds up his driver's license and says his new name is Ricky Mundo. Johnny tells him he has to sit on the sideline for this match since he didn't give him permission to change his name. Now Johnny is punishing Ricky. He replaces him with Marty "The Moth" Martinez.
Sexy Star and Marty start off and Taya runs in and pushes Sexy. Sexy with a kick and an elbow followed by a series of slaps, then chops. Martythrows her in the ring and runs into a boot. Sexy with a huricanrana. Sexy tags Fenix in and Marty tags Black in. The two go back and forth until they hit each other. They both drop, then Cage and Taya get tagged in. Cage takes off the gauntlet after hesitation. He grabs her by the throat and the rest of her team run in beat up Cage. Tyay does damage to him in the corner. Taya runs into a clothesline. Mundo who was still in the ring gets caught in vertical suplex. Jeremiah Crane runs out and steals the Gauntlet! (Perhaps to serve Catrina who has been wanting to get her hands on the gauntlet?) Cage runs after him. Now Puma is in for Cage and Black and the Moth along with Mundo try to work together against Puma. Mundo was legal but everyone is everywhere. Sexy and Fenix take Taya and Marty out on the outside of the ring. Puma and Mundo inside. PUma takes out Black on the apron and he runs into a big hit from Mundo. Huge kick from P.J. to Puma. Giant kick and then DDT to Puma by Black who was legal. He makes the tag to Mundo and Mundo hits the End of The World, cover and win by the Worldwide Underground with special appearance by Marty "The Moth" Martinez.
Winners: Taya, Johnny Mundo, P.J. Black and Marty "The Moth" Martinez- Mundo pinfall over Puma with End of the World
Marty tries to go to Melissa Santos and grabs her by the hair. She yells "NO" and slaps him in the face. Then she repeatedly slaps him and Fenix comes and gives him a huge kick to the face knocking him to the ground.
Catrina is backstage and Crane brings her the Gauntlet. He says she hassomething he wants too and points to his lips. Mil Muertes comes in and starts beating up Crane who drops the Gauntlet. Cage comes in and grabs Catrina by her neck. She cannot escape him. She drops the Gauntlet and disappears. Then Mil, Cage and Crane all continue to beat each other up with the Gaunlet laying on the floor. In comes Dario Cueto and he grabs the Gaunlet while the others are distracted. It is now in Dario's hands, what will he do with it?
Matt Striker confirms that next week we will see Mariposa and Marty "The Moth" Martinez vs. Fenix and MELISSA SANTOS!! We will see Melissa in the ring!
El Dragon Azteca, Jr. vs. Pentagon Dark -Winner receives Aztec Medallion
We start with a dropkick to Azteca, then a series of chops and Dark takes out Azteca's legs. Another kick to the face by Dark. He is starting off very strong. Dark with another chop in the corner, dropping Azteca to his feet. Dark runs into a kick, rolls out of the ring and gets knocked down by Azteca. Azteca with a sort of back flip off the turnbuckle onto Dark on the ground. Azteca now comes back and hits Azteca and delivers more kicks. Dark throws Azteca into the wall. Azteca with a headlock to Dark, throws him back in the ring. As Azteca gets up to get in the ring he runs into more kicks. Azteca with a crossbody splash, cover and Dark kicks out at two. Azteca with a leg drop, cover and kick out. Azteca with forearms and Dark comes back with a double stomp, Dark with a cover this time and kick out. Chops back and forth. DDT by Azteca, cover and kick out by Dark. Dark with a back-breaker, cover and kick out by Azteca. Both are up to their feet and then Dark runs into a kick. Azteca goes to top rope and Dark knocks him off, grabs him and delivers a package pile driver! Cover and win by Pentagon Dark!
Winner: Pentagon Dark via pinfall with Package Pile Driver
Pentagon collects his medallion and stares at Azteca, contemplating if he should break his arm. He decides to trythen Matanza runs out and comes face to face with Dark. Dario yells at Matanza and Dark bumps into him. Dark leaves the ring. Dario tells Matanza to get Azteca. Matanza throws him across the ringand Azteca just gets thrown around. Dario looks on, proud of his brother. Now out comes Rey Mysterio. Dario calls Matanza back and Rey grabs Azteca from the ring. This next match will be a good one!
Rey Mysterio vs. Matanza Cueto
Rey starts off very strong, coming in hot at Matanza with a series of kicks and hits. Matanza moves his way out of the ring and Rey slides out at him. Matanza catches him mid jump and slams his face on the apron. Matanza now doing work to Rey against the steel cage separating the crowd from the ring. Rey gets thrown back in the ring. Matanza is back in, he gives punches to Rey and then gives him a huge clothesline. Matanza grabs at the eyes of Rey. Rey tries to fight back, he jumps on Matanza's back, somehow bringing him down and into a pin. Matanza kicks out and throws Rey face first out of the ring. Matanza follows out, slowly stalking his victim, and continues to punch Rey and grab at his face. Rey tries to walk away from him around the ring. Matanza lifts Rey and brings him towards the announce table. He drops him in front of the table and then moves him inside the ring. Rey can barely walk. He lifts him to the top turnbuckle and Matanza moves to the second rope. Rey comes back with some punches and then a series of headbutts. Rey to top rope and sunset flip power bomb! They are both down! Rey jumps at Matanza and gives a DDT to Matanza, cover and kick out. Rey with a leg drop, Rey gets brought down by a big boot. Matanza goes under the ring and grabs a chair. Rey narrowly misses a chair shot and kicks the chair into Matanza's face. (Dario gave the ok for the chair usage) Matanza positions the chair in the ropes, Rey comes back and delivers a 619 to Matanza with the chair in place! Rey to top rope and jumps at Matanza and gets hit by the chair, his leg is hurt, Matanza throws him around the ring. Rey is barely moving and cannot fight back.He gets thrown again and barely makes it to his feet. Matanza puts him in the corner, he runs toward him but Rey moves out of the way and Matanza runs into the ring post. Matanza slams him down, cover, Rey tries to put his foot on the rope for a rope break, the ref doesn't see it and Dario puts his foot down giving Matanza the win. Dario brings a chair in, gives it to Matanza and then he picks up Rey with the chair and slams them both down on top of each other. Dario tells Matanza to destroy Rey who has rolled out of the ring. Matanza puts Rey's head in the chair and hurdles him at the ring post multiple times. Dario commands Matanza backstage and he carries Rey back with him.
This was a very eventful 100th episode of Lucha Underground and we should be seeing a lot more in the weeks leading up to Ultima Lucha Tres! Catch Lucha Underground every Wednesday at 8 EST on El Rey Network and stick with us here at Fightful.com for all your coverage!